I hadn't had a chance to shop the numerous aisles in my favorite thrift shop in what seemed to be ages, but finally, FINALLY, I was able to pop in for a quick visit. I love thrift stores. It is really amazing the little treasures and everyday things you can find. My favorite is the
Value Village
close to my home, along with another little church thrift store close-by, but know that not all thrift stores are created equal. I've been in my fair share of thrift stores and location is key. Stores that are in "nicer" neighborhoods will more than likely carry "nicer" things. The Value Village I shop at is in one of those "nicer" neighborhoods and regularly I find clothing from
H&M
,
Gap
,
Old Navy
and many other name brands, a lot of them with the store tags still on. Something else I love to shop for at thrift stores is books. Some people may get all icky-feeling about buying used books but I have a tip for you. Put your "new" books into a bag and then pop them into the freezer for a couple of days. When you take them out they are fresh as daisies. Even musty smelling books loose their musty smell after a visit to the freezer. My favorite thing though, is finding vintage treasures at thrift stores. This can be hard as the good items get snapped up really quickly, but once in awhile you will come across something old and sweet, and you fall in love. Especially when those items remind you of your childhood. My most recent "love" purchase was these 3 little vintage glasses.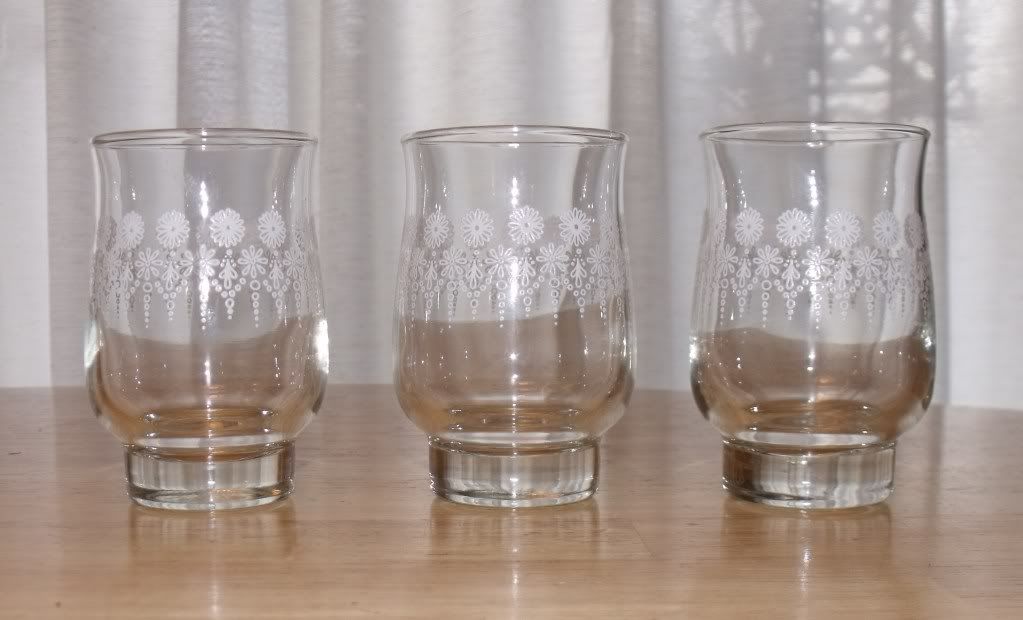 I'm sure at one point there were more of these oh-so-pretty glasses in the set, but that was all that was there. Since there are 3 of us here at home, it works out nicely. I really love these. They remind me of glasses my Grandma had when I was a little girl.
With all of the turmoil and devastation happening in Haiti, and all over the world, my heart has really been aching for people who need help. I do what I can, when I can, but it doesn't feel like anywhere near enough. I so admire all of the people who have dropped everything to be in Haiti in person, and I admire even more the people who left Haiti after the earthquake and are going
back
because they want to help. If I could do it I so would. But it got me thinking about my own situation. Safe, comfortable, happy, here. I feel guilty. I do. To ever complain about something not going quite right for me, I feel guilty. Selfish and guilty. With those thoughts sprung a challenge. Maybe it was God putting it into my heart, but nevertheless a challenge has presented itself to me and I am going to take it on. With all of my efforts on trying to live a simple lifestyle, with all of my efforts to not keep up with the Joneses, and with my love for thrift stores, sites like
Freecycle
and
Craigslist
, I'm going to live with less, and with purpose. I'm going to cut back on all of the things I don't need, and I've started already. I got rid of my fancy cell phone, used my
FidoDollars
and got a much
cheaper phone, and a green one to boot
. I also got rid of my fancy cell phone plan and went with a much cheaper plan, with the hopes of eventually going even cheaper once my contract is up. I've cancelled all of the fancy extras on my cable plan, as well as on my home phone plan, and plan to do more cutting back in these areas when I can figure out where (they rope you into so many things you don't need, but can't
not
have. Does that make sense??). This is just the beginning. I'm not going to get sucked into buying the latest gadget, upgrade to the latest must-have, guilt-tripped into buying the latest toy, or pay a fortune for something I can get much less (or FREE!). The purpose behind all of this, is to enable me to give more. I don't need a bunch of junk while other people are barely surviving. It doesn't make sense and it doesn't work. Not in my mind it doesn't. And what appeal is there behind all of these mass-produced, chemical laden "things" that fill our homes anyway? We can't take it with us in the end. And that's the point. I'm going to take the focus off of me, live with a purpose that is beyond me, and extend my hand. I hope I can make even a small difference somehow, somewhere. It's worth a try.